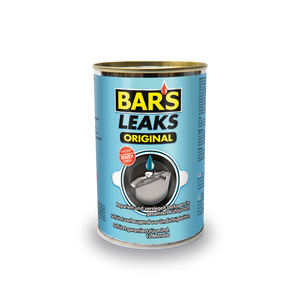 Seals and protects cooling systems – without clumping
Seals cooling systems without clumping

Seals leaks lastingly and protects preventatively for a period of 12 months

Compatible with all conventional antifreeze and coolants

Suitable for all types of cooling systems

Prevents rust and limescale deposits

Optimal for preventative maintenance and repair of cooling systems
All of the features described on the can have been tested and confirmed by the technical inspection association TÜV Rhineland .
150 g can: For cooling systems from 5 - 12 litres

735 g can: For cooling systems from 50 - 80 litres
Item number: V101002
Packaging: Tinplate can
Content: 150 g or 735 g
Delivery time: 2-3 days
Legal Notices
WARNING
Causes skin irritation. Harmful to aquatic life with long lasting effects. Contains 2,2',2''-(hexahydro-1,3,5- triazin-1,3,5-triyl)triethanol. May produce an allergic reaction. 5 % of the mixture consists of component(s) of unknown toxicity. Contains 17 % of components with unknown hazards to the aquatic environment. If medical advice is needed, have product container or label at hand. Keep out of reach of children. Wear protective gloves. Avoid release to the environment. Dispose of contents/container to an official chemical waste depot.